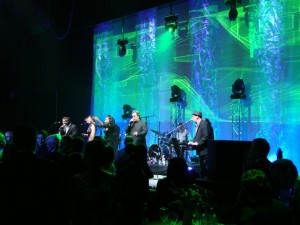 In The Mood is a vocal powerhouse with a total of 6 front singers who cover every style of music from a multitude of generations. Their set list has all of the best of each genre of music and features cutting edge repertoire rarely, and in some cases NEVER heard performed in a live setting. They are available from smaller configurations all the way up to a full 22 piece dance orchestra with brass and strings.
Meet each of our performers on the Artist Biographies page.
Here is a little more about the band:
From performing at the legendary Sands Casino in Las Vegas to performing with bands including, The Beach Boys, Steve Miller, The Tramps and Crystal Gayle, national talent Don Marsico is a multi-talented performer. An audience of 25,000 watched as Don Marsico gave a performance of his #1 song in concert with such artists as Tanya Tucker and Juice Newton. Additionally, Don was a lead singer with the historic Jaggerz (The Rapper)and has made a name for himself recording commercial jingles for the companies Coca Cola, McDonalds, Cedar Point, Hostess and Lays Potato Chips.
As part of the band on "My Music" series, singer and accomplished pianist, Joe Munroe performed on PBS nationally with Patti Labelle, Marylin McCoo and Billy Davis, Jerry Butler, Crystal Gayle, Dionne Warwick, The McGuire Sisters, Bonnie Pointer, Peaches and Herb, and more! Joe brings his amazing talent to this band and has been performing with fellow singer Don Marsico since they were childhood friends. In 2015, Joe was inducted into the Beaver Valley Musicians Hall of Fame
Natalie Shugars has been a regular at such diverse venues as The House of Blues, the Vegas Strip, a musical attraction for Royal Caribbean Cruise lines, prior to being signed to an Indie label, and recording in the Atlanta Studios where she worked on her own original projects. Natalie has appeared in print ads for national campaigns, and companies such as Wal-Greens, Dick's Sporting Goods, and Fisher Price. She also works in television and broadcasting as an actress as well as being the lead role for a pilot tv series Full If Grace on the NBC Network, and as a Co host to an edition of the OT With The Bus show starring Jerome Bettis. Shugars was the first female to write, and record a Steeler fight song I Love Black 'n' Gold and performed it at Heinz Field for the AFC Championship game where it was awarded by the prestigious ESPN Radio Network for Best Fight Song Of The Year.
Singer Erika Vasquez is a vocal powerhouse who can sing virtually any style. She's appeared both locally and Nationally with a variety of bands and is considered on of the region's top live and studio singers. Erika can be heard singing in intimate environments in a duo or trio setting and is one of the four featured singers in the full In The Mood Produciton.
John "Steez" Wagner a self classified electro-soul up and comer hails from Pittsburgh, PA. Where he grew up in the cities' East Liberty neighbor.. Inspired by musical greats like Earth, Wind & Fire, Frankie Beverly & MAZE, Parliament Funkedelic, The Gap Band to name a few. John Steez credits his grandparents with a lot of his musicality. His grandfather enticed him with sounds from jazz greats such as Art Blakely and the Messengers, Sounds Of Blackness, Quincy Jones, Isaac Hayes and many more. Steez has opened for R&B crooner Dave Hollister and soulful singers SWV at Soldiers & Sailors Memorial Hall.
Bringing energy, dynamics, taste, and great grooves to every gig. Joe Marini studied with famous jazz drummer Eugene 'Babe' Fabrizi at the age of ten. and went on to perform with world renowned bassist, Billy Sheehan. 
and a number of rock, jazz, and jazz fusion bands such as "Truth and Soul", and "Upfront", 
who released the album "Killing Time" which received high marks, and reviews from the Nominated as "Best Jazz Drummer" by 'In Pittsburgh' magazine and an endorser of "Custom Drumstix", a drumstick manufacturer from Atlanta, GA.
In The Mood tours both nationally and internationally for audiences as small as 100 and as large as 20,000.