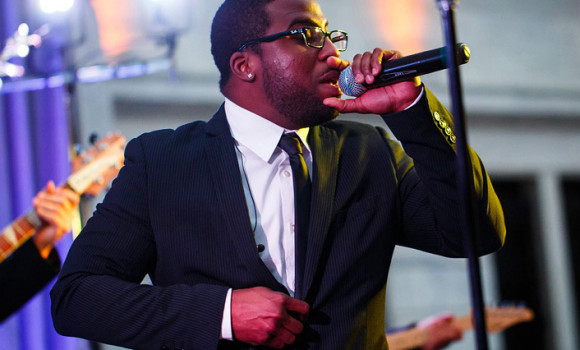 John Steez
In a society with its ear to the ground for the latest and greatest sounds and performances, John Steez stands out as one of the most incredible performers to hit the Pittsburgh Music scene in decades. Steez brings an amazing amount of electricity and positive energy to the In The Mood Band. His performances have dazzled experience Producer Nick Dialoiso and Steez quickly rose to the top of the company.
The self classified electro-soul up and comer hails from Pittsburgh, PA, Where he grew up in the cities' East Liberty neighborhood. With the odds stacked against him, he decided that life had more to offer. He joined the military directly after high school. He served 4 years in the Air Force and completed two tours overseas.
While away from home, Steez embraced his musical abilities to discover that his talents are vast! Not only does he sing but, arranges, composes and produces as well; a talent he enjoys most of all his trades. Inspired by musical greats like Earth, Wind & Fire, Frankie Beverly & MAZE, Parliament Funkedelic, The Gap Band to name a few. John Steez credits his grandparents with a lot of his musicality. His grandfather enticed him with sounds from jazz greats such as Art Blakely and the Messengers, Sounds Of Blackness, Quincy Jones, Isaac Hayes and many more.
Steez has opened for R&B crooner Dave Hollister and soulful singers SWV at Soldiers & Sailors Memorial Hall. Also His self-produced album "DayDreamin" is available on iTunes!